Aloha Alaska Vacation Rentals, Homer, Alaska

Your hosts, Bart & Starlet Chow
You may contact us:
By email at starchow28@gmail.com
By mail at Box 2044, Homer, Alaska 99603
Or fill in the appropriate info in the form on this page and we will respond quickly.

Aloha Alaska Vacation Rentals is located 3.5 miles from Homer Alaska,
a 10 minute drive up hill to our home located on Scenic Skyline drive.
See the map at the bottom of the page.

Rates
2 Night Minimum

West Wing - Maui & Kauai Rooms
$330 per night
East Wing - Hawaii & Molokai Rooms
$265 per night
up to 4 adults,$25 each add'l person
Max 6
The Guest House
$400 per night, 3 night minimum with
max of 8 Adult.
There is a $75 cleaning fee.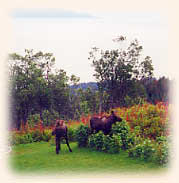 Thieves in the garden
Check in is at 3 p.m.
Reservations are confirmed upon receipt of deposit
Deposit is one nights' stay paid in advance
Total refund if cancellation is received 30 days prior to arrival.
Other cancellations or no-shows may be subject to charge.


Click the map for a large printable copy
APPROXIMATE DISTANCE TO HELP YOU.
Lake Street to East Hill = 1 mile
East Hill to Skyline Dr. = 2 ½ miles
Skyline West to North Glacier View Ct. = 7/10th mile
Click HERE for links to other Homer businesses.
Recommended fishing charters, kayaking, car rentals and other tours